Pour l'église catholique, le mariage homo est l'œuvre du Diable. Un évêque américain a organisé une cérémonie de prières et d'exorcisme (en latin) afin de délivrer du péché l'Illinois où le gouverneur Pat Quinn vient de signer la loi autorisant le mariage de personnes de même sexe.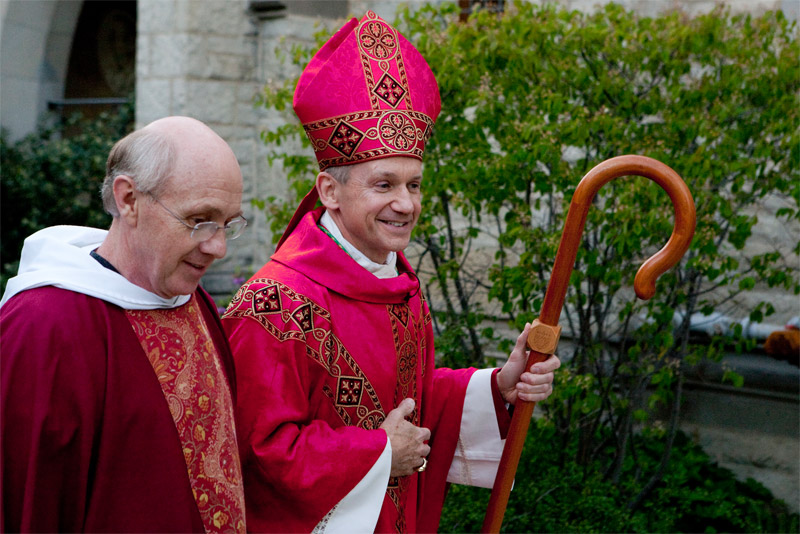 SPRINGFIELD — Before a mostly full cathedral, the head of the capital city's Roman Catholic flock looked both to the heavens and to Gov. Pat Quinn's bill-signing ceremony for same-sex marriage Wednesday and uttered three words in Latin: "I exorcise you."

With that, Bishop Thomas John Paprocki staged an unusual — and in Illinois, unprecedented — exorcism that asked God to "deliver us from evil" of a Quinn-led change in state law that will permit gay and lesbian couples to wed in Illinois despite the Catholic Church's objections.

Wearing a flowing purple robe, Paprocki told as many as 500 followers that included grammar school students, office workers who clocked out early and retirees that he didn't intend to suggest that Quinn or any other Illinois leader is possessed by the devil.

Instead, during his homily, Paprocki said the service was necessitated, essentially, to undo the work of the devil. The governor and his allies who pushed through the Religious Freedom and Marriage Fairness Act are "morally complicit" in advancing gay marriage, a ritual Paprocki said Pope Francis – as an Argentinean cardinal – has declared a sin and a tool of the "father of lies."

Paprocki told parishioners he was speaking to them "with great reluctance" and that he did not seek the moral confrontation with state lawmakers and the governor that led to Wednesday's response from the church.

In justifying the exorcism service, which started a half hour after Quinn's bill-signing ceremony, Paprocki said, "God is asking me to speak out and give these prayers." The bishop also insisted the church embraces chaste gays and lesbians, even while abhorring same-sex marriage.

"The church loves homosexual persons and looks upon them with compassion," he said.

After that introduction, Paprocki read the rite of exorcism in Latin as his voice echoed through the cavernous and ornate Cathedral of the Immaculate Conception church a few blocks from the state Capitol, where the legislation passed earlier this month.

"I exorcise you, every unclean spirit, every power of darkness, every incursion of the infernal enemy, every diabolical legion, cohort, and faction, in the name and power of our Lord Jesus Christ," Paprocki said. "Be uprooted and put to flight from the Church of God from souls created in the image of God and redeemed by the precious blood of the divine lamb.

"Dare no more, oh cunning serpent, to deceive the human race, to persecute the church of God, to shake the chosen of God and sift them like wheat," he continued.

[…] "Be gone Satan, father of lies, enemy of human salvation," Paprocki said later, as he began the conclusion of the exorcism. "Give way to Christ, in whom you found no trace of your works. Give way to the one, holy, Catholic and apostolic church, which Christ himself won by his blood."

After the service, sign-waving demonstrators dodged raindrops as they lined up on the sidewalk outside the sandstone pillars of the church and sang songs in favor of same-sex marriage.

One man, Win Colburn, of Springfield, displayed a handwritten placard to passing motorists. In all-capital letters, it read, "JESUS HAD TWO DADS," a sentiment that angered some worshipers inside the church and produced insults from drivers.

"I don't want the haters to have the last word," Colburn told the Chicago Sun-Times.

Chicago Sun Times, Dave McKinney : "Bishop Paprocki stages exorcism as gay marriage becomes law: 'Be gone Satan'."
Quand même, avouez qu'avec les Cathos, on peut se payer des tranches de franche rigolade.